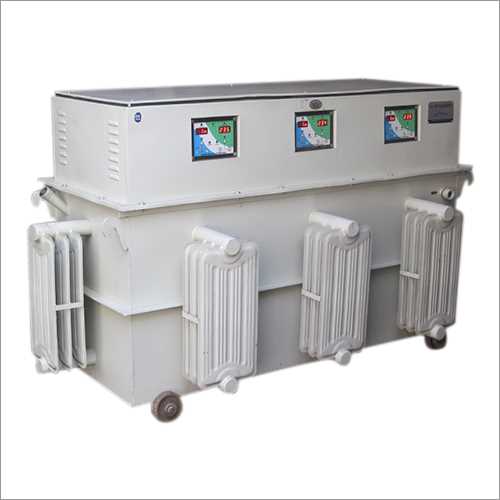 Oil Cooled Servo Stabilizers
We are supplying and exporting the most advanced range of Oil Cooled Servo Voltage Stabilizer. Made with the latest equipment and technologies, it has come to be recognized as the most productive as well as the efficient machine in the global market. Constructed with the use of finest materials, the Oil Cooled Servo Voltage Stabilizer is exceptionally durable. The rigid construction endows it both the strength and elegance to be stand out. With an eye to matching all the possible needs of various industries, the stabilizer comes in several models. Customized solutions are delivered on specific demands as well. It has been developed to enhance productivity with optimum ease.
ADVANTAGES OF SERVO STABILIZER :-
Reduction in Electrical breakdown & Improves life of Equipment's.

Enhance Power Factor by Voltage regulation.

Increase productivity rate.
CNC/VMC Machines

Air Conditions Plants

BTS/Mobile Towers

Pharmaceutical, Cement Plant.

Plastics Industries. etc.

Residential, Mall, Theaters.

Hospitals, Resorts, etc

Printing Industries

Cold Storage
Ultra isolation transformer at output

Bypass arrangement

Phase Sequence Protection

Line noise & Surge Suppressor

Input Out of range Protection.

EMI/RFI Filter.

Non Standard rate of correction.
30 KVA to 2000 KVA

Digital LCD Display

Microprocessor based control

100% unbalanced type

Wide input range
Capacity in KVA :-
30 KVA to 2000 KVA Oil cooled
Input Range :-
340-480VAC | 300-500VAC Or As Per Customer Requirement
Output Voltage :-
380V/400V/415V/415V(As per Customer requirement)
Rate of Correction :-
up to 100V/sec
Response Time :-
10 msec
Waveform Distortion :-
nil
Controlled Type :-
Digital Micro Controlled based
Effect of Power factor :-
Nil
Line frequency :-
47 to 63 HZ
Duty Cycle :-
100% Continuous
Protections :-
input High/low Voltage cutoff
Output High/Low Voltage cutoff,
Overload Cut Off Protection
Single phasing preventer
Short circuit protection